Meet Daniel Loosemore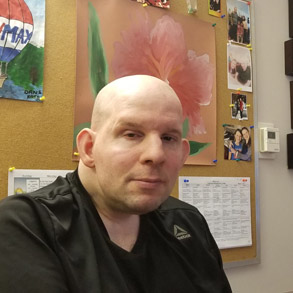 Walking into Daniel's room, you're greeted by family photos, children's drawings, a big screen TV and Daniel, controlling everything with Siri and Google. In his mid-forties, Daniel may not be who you might expect to meet in long-term care, but he represents the increasing diversity of the Residents at Fairview. Born with a progressively worsening neurological condition, at 40, Daniel's needs exceeded the care that could be provided by his parents and community care and he moved into a long-term care home.
Daniel knows he's missed out on a lot because of his disease. Marriage, kids and working aren't in his future. But he doesn't let that stop him from experiencing the best life possible. Fairview was his first choice, even though he was placed in a different long-term care home for two and a half years.
"I've spent several years in long-term care, and am now at Fairview, so I know what makes a good nursing home. I need support doing almost everything, but I also want to be independent. The Seniors Active Living Centre at Fairview has the special equipment I need to maintain as much strength, mobility and independence as possible. Using my manual wheelchair, it takes me nearly 40 minutes to get to lunch – a distance someone could walk in under a minute – but it lets me use every bit of mobility I have. That feels good."
Daniel reminds us that it's a privilege to be independent and that being vulnerable is a possibility for everyone. "You learn that survival involves a community. We will all need help. It's important to nurture your relationships and pay it forward. I respect people, like my mom taught me. When people meet me, I want them to say – I'm glad I met that person."
"I want to be the best version of myself," says Daniel. "On a good day, when everything goes as planned, I have coffee at 10 a.m., three good meals and in bed by 9 p.m. The devoted staff in my home area at Fairview make this happen, all day, every day. They support me, encourage my independence, and adapt as my needs change. My parents are impressed and want to live at Fairview, too. I hope that as I age, I, and all of the Residents, continue to experience the same reliable care I have today."
---
Meet Annie Dibble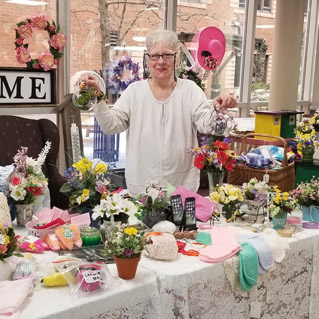 Visit the craft room at Fairview and, amidst the wool and paint and floral hoops, you're sure to find Annie Dibble. It's hard to believe that this warm, enthusiastic woman was determined she wouldn't like living at Fairview.
The Dibbles were on a waiting list for years, but after visiting several homes, they knew Fairview was the right choice. During their wait, Annie's husband passed away. "When I lost my husband, I mourned for a long time. My daughter was worried.
In 2014, I got word that Fairview had a one-bedroom apartment available. I was determined I wasn't going to participate in anything. I didn't want to be happy. But the staff and the Residents here are phenomenal. They helped me get through it." Annie grew up in the country, one of 12 children. "I was homeschooled and never got to go to university. Now, I feel like I've joined a sorority! I'm surrounded by my white-haired Sorority Sisters. I've lost all but one sibling, but at Fairview I have found new sisters."
Annie can't say enough about how Fairview's supportive community gave her a new lease on life. "There's just so much to do – crafts, cooking and companionship – it's very therapeutic. You can be as busy as you like, and no one pressures you to get involved. It's easy to make new friends and you learn to appreciate every day. Everyone helps each other here. When I returned from a visit to Emergency, people came to take out my garbage and make me tea." Annie's daughter doesn't worry anymore. In fact, she has put her name in at Fairview, too.
"Being on your own after years of marriage is difficult. Moving to Fairview has really helped. It's a fun place to live. My daughter and I both love to create things to sell at the craft sales. I'm as happy as can be. When I need it, there is always someone here to talk to. No one is more surprised than me at how happy I am here. The food is great, the people are wonderful – you know, if you have to be somewhere, this is the place. Fairview is home."
---
Meet Lois and Robert Witmer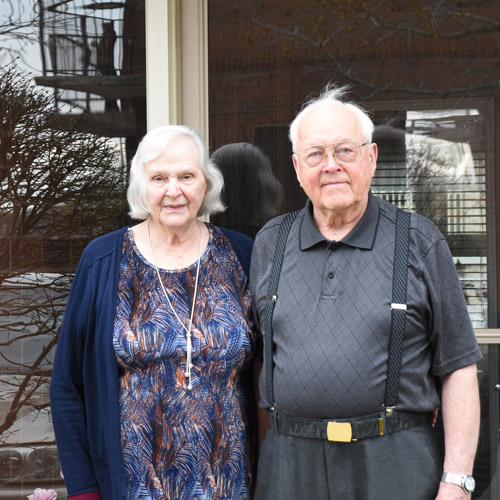 If you need to know anything about living at Fairview, there are two people who can likely answer all of your questions: Lois and Robert Witmer.
Robert, a Mennonite pastor, and Lois, a devoted mother, volunteer and gifted painter, were asked to serve in a suburb in Paris, France – a long way from the South American mission they were expecting. Almost 40 years later, having served in France for 30 years and then in Rouyn-Noranda, Quebec, they retired to Cambridge. It was a logical choice, as Robert's parents had lived at Fairview in the '70s in the apartments and then in long-term care; Lois also had family members who stayed at Fairview.
"Fairview was very much in our hearts from the beginning. And, after 24 years, we still believe it was the right choice. Our cottage has plenty of room for the family to visit. That's important when you have five children, nine grandchildren and three great grandchildren."
Robert is a gifted builder. Years ago, he built a pond in the backyard of their cottage. His handiwork didn't go unnoticed. When Fairview's long-term care home was being built, he was asked to help with the pond in the courtyard.
Both Robert and Lois will celebrate their 91st birthdays this year, as well as their 70th wedding anniversary. "Lois still drives and does the shopping and is quite a good cook," says Robert. "I'm quite particular about food." Robert makes his own yogurt and kindly shared his recipe. "We try to stay active. We go swimming three times a week at the Seniors Active Living Centre and attend choir practice. There's plenty to do." In addition to enjoying garden and home shows, reading, playing games and using their iPad, Lois has written a book just for the family, and Robert has published a book that includes stories of their mission work.
While Fairview is meant for everyone, not just Mennonites, Lois appreciates the faith-based community. "God has been good to us. He delivered Robert from cancer and a stroke, both of which he was not expected to survive. We didn't make plans to be in our 90th year. The Lord has His plans for us. It led us here. It's the longest we've ever lived in one place. Fairview is our home."
---
Meet brother and sister: Julian Bal and Vanessa Bal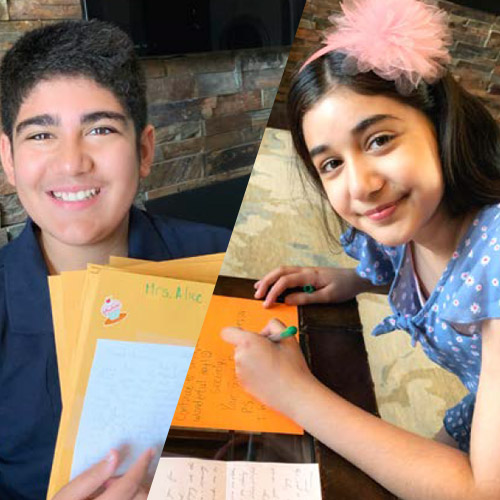 In times of adversity, it is acts of kindness that soften the impact and provide the encouragement and love that allows each of us to keep going.
COVID-19 has certainly tested us all. Residents and families made a particularly difficult sacrifice, staying apart for months as the most caring act that could be done to keep loved ones safe and team members healthy. We know how challenging this has been for adults. It turns out, it was challenging for children as well.
Vanessa, who turned 11 in July, and her brother Julian, 13, were initially excited by an extended March break. However, they were disappointed that they wouldn't be able to visit their grandparents and were worried about their health. That's when their mom, Dr. Sharon Bal, suggested writing letters to others, who, like their grandparents, might be lonely.
"We decided to do something to help seniors at Fairview who were isolated," says Julian. "In total, we wrote almost 100 letters. We decided to hand write them because we didn't want people to think we were just copying and pasting. We wrote things that we thought our grandparents or their friends would like to ask us. Rather than saying a lot about us, we invited them to write back, and many of them did."
"I think it is a little nicer on paper," says Vanessa, "and that way, it could be coloured paper. All of the letters to me were very nice. A couple stood out because they also coloured a picture. One person sent a mask they made. That was cool. They answered my questions, like do you like ice cream, and what is your favourite colour. One person told me how they had a pony when they were growing up."
"All the replies were amazing," says Julian. "One in particular stood out to me. I had told them I was in grade 8. They told me they remembered when they were in the same grade about 80 years ago, and what they did when they were a kid. We plan to reply to the people who wrote back to us. I want to remind them they are not alone and there are people who care about them. They didn't have the usual support of their families and they have been so strong. We are so proud of them."
Vanessa has started making charms to include in each letter. "I want them to feel as special as possible. In a couple of the letters I got back, the person told me 'I feel comforted that I'm in your thoughts'."
"The letters are magical, really moving," says Sharon. "The kids were so worried about their grandparents and it is a sweet process to see them do this and learn from it. I know they are kind-hearted kids and I'm touched by the effort they put in and grateful for the responses. I think this has made a difficult time a little easier, for everyone."
"This is a moment when everyone needs to be kind," says Julian. "You can't predict what anyone else is going through. There is no excuse for anyone not to be kind. Kindness shows other people you care. You show it in your actions. If you are kind to others, people will be kind to you. It's just a really nice cycle."
---
Meet Peggy Worboys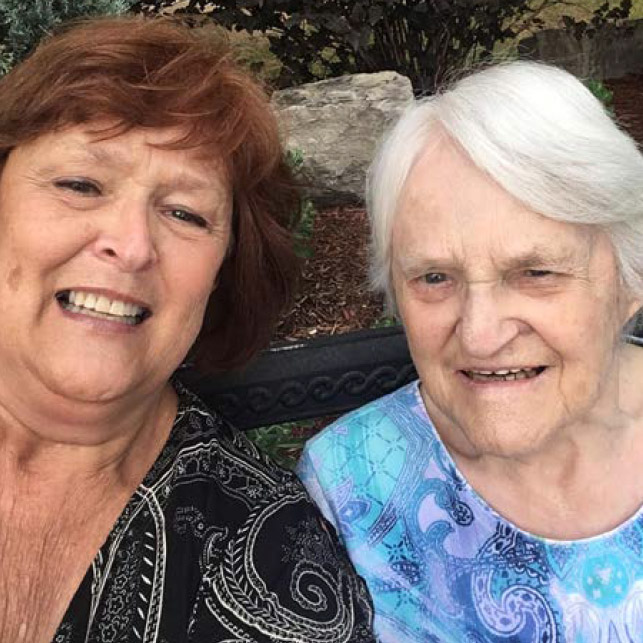 With a history of more than 75 years, Fairview has played a multi-generation role in many families, including Peggy Worboys' (left), starting in the mid 1960s.
Peggy's father met an untimely death at the Breslau gravel pit, and suddenly, at age 37, her mother Shirley (right) had to get a job. Prior to that, Shirley had been a busy stay-at-home mom, while also managing a big garden; she canned, cooked and baked everything. A friend suggested calling Fairview. Shirley made that call and was interviewed and hired on the spot for the nursing department.
Shirley loved being at Fairview and worked her way up to Charge Nurse in three years. You could often hear her singing hymns, while walking up and down the halls. She left in her early fifties, having remarried, but maintained her connection through volunteering. She later moved into Fairview's apartment tower and now lives in the retirement suites. Shirley turned 92 this year and still gets where she wants to go, using her walker.
Shirley's daughter, Peggy, started with Fairview during her last year of high school, working every other weekend in housekeeping.
"The residents got really good meals," says Peggy. "And, at that time, there were two tubs in each washroom, with a shower curtain between. I can't imagine using a communal washroom, but they did it."
Peggy was soon offered a full-time job and completed training as a Health Care Aide. Marriage, moves and children saw Peggy leaving and returning to Fairview four times.
"We got to be such friends, those of us who worked there," says Peggy. "When mom would host dinner parties we would have this amazing group of nursing and housekeeping staff in our home, laughing and playing games. Everyone went away feeling better about life."
One of Peggy's children, Lindsay, also decided she wanted to work at Fairview and successfully landed a part-time job in the dietary department while she was attending high school and college.
Peggy enjoyed her years at Fairview and is proud of helping to develop a course in environmental services to establish a standard of cleaning in health care settings. It has grown beyond her expectations and Peggy continues to mark assignments for the course which is now offered at Algonquin College in Ottawa and recognized by the Ontario Healthcare Housekeeping Association.
"Fairview was such a good life experience for me," says Peggy. "I found my value as a person. As soon as you come in the door, you just feel like you're home. Today, through my mom's eyes, I can see it is still a nurturing place. Kindness reveals itself in the daily actions of the people who care for her. It's in the little things, showing respect and making sure it's a comfortable, safe space. I feel I'm a thread in a quilt that is Fairview and I can see myself living there one day."
---
Meet Lydia Ann Bauman, 1915-2021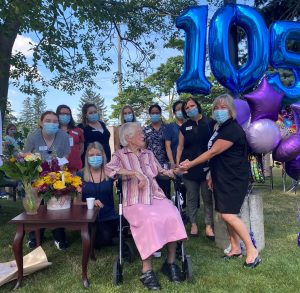 In 1915, Robert Borden was the Prime Minister of Canada; John McCrae published 'In Flanders Fields'; the average annual wage of farm help was $341 including board for men and $200 for women; Canadians were asked to ration basic foods like flour, sugar, butter, eggs, and meat; and Lydia Ann Bauman (née Horst) was born on July 20, by Three Bridges, on a little farm.
Lydia Ann was one of three girls in a family of 12. At age three, her family moved to Florida, then back to Canada where they bought a farm by North Woolwich, near Elmira. Her father had a garden farm and sold produce at the Kitchener market.
Lydia Ann met her future husband, Howard S. Bauman, through her brothers. He became the last minister in the Conference ordained 'by Lot' in 1945, which involved selecting from one of three Bibles, only one of which contained a slip of paper. Whoever selected that Bible would become a minister.
"My father said he knew which one the slip of paper was in," says Jim Bauman, the eldest of their six children. "He was minister for 21 years at Elmira, as well as a printer, starting Bauman Printing, which I bought and continue to run today. My parents transferred to Clarence Centre in New York state for another 20 years or so. When they semi-retired, they moved back to Elmira and attended the Zion church."
When Howard's health was in decline, the couple moved to the Fairview Apartments, and then to Fairview Suites. He passed in 2010 after nearly 70 years of marriage. Lydia Ann continued to reside in the Suites until she passed in February, 2021.
"Mom loved to see the family, that's what kept her going," says Jim. "She taught me about kindness and love. When we were kids, she would skimp on food to provide for the family. There was no doubt she loved us."
Jim recalls his mother always had a large garden; what she grew she would use or preserve by canning. She continued to enjoy quilting, reading and walking every day, even at 105 years of age. If it was sunny, Lydia Ann took her walker and went around the block – about a kilometre. It was one of the highlights of her day. She was glad to get outside in the fresh air where she could think clearly and look at God's creation. If the weather was poor, she walked around the home. Lydia Ann loved to meet people.
"Fairview was a natural and good choice for my parents," says Jim. "It was initially created for retired ministers, like my father. They knew people from their church as well as former parishioners. Fairview is still based on values and the staff are kind and helpful. They are just good people. Like Mom."
Jim Bauman, son of Lydia Ann Bauman, 2020