Saturday, September 24, 2022 and Sunday, September 25, 2022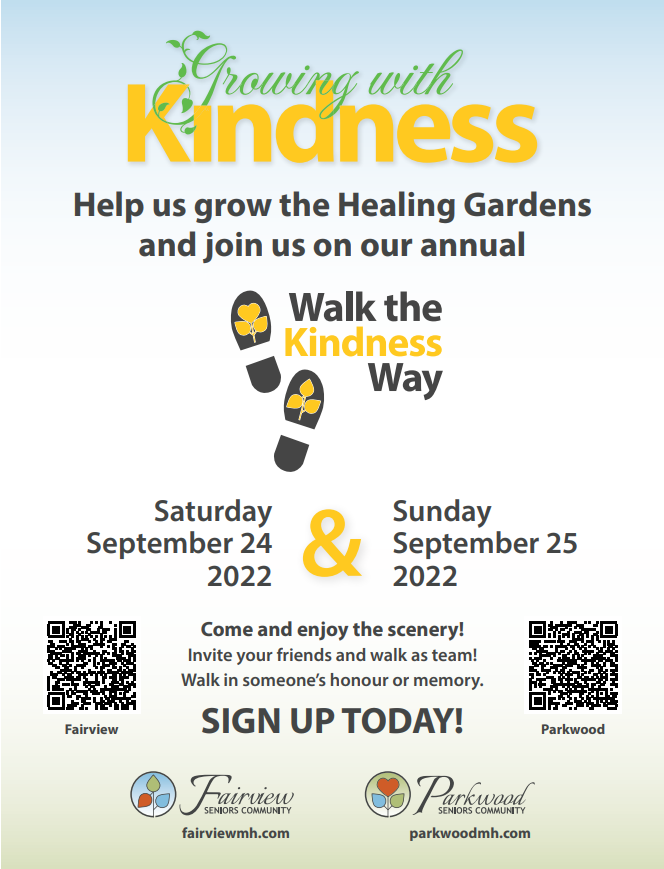 Fairview Parkwood Seniors Communities invites you to support their third annual journey to Walk the Kindness Way. This year's theme is Growing with Kindness.
Walk the Kindness Way is a 42 km trek – the equivalent of a marathon – that takes place over two days along the Walter Bean and Grand River trails. Participants begin the walk at Parkwood Seniors Community and complete the journey at Fairview Seniors Community.
There are several options for participating:
– Saturday & Sunday
– Saturday only
– Sunday only
– 10km (Sunday only)
All fundraising dollars will be put towards creating Healing Gardens at both of our campuses. For more information regarding what Healing Gardens are, and why they are a great addition for our residents, please click here.
Please join us in any way you can: as a team leader, a walker or a fundraiser of the event.
We look forward to welcoming you again, or for the first time, as together, we Walk the Kindness Way.

Any cash or cheque donations can be left with Liz at the reception desk. Please use the link below or the QR Code on the poster to learn more about the event, how to sign up and how to donate:
Fairview
https://www.canadahelps.org/en/charities/fairview-mennonite-home/p2p/growingwithkindness/